April 13th – Friday
Today we flew home. The entertainment system was working on the plane this time round, so after more gawping at the extravagant nature of the technology we settled down and blocked out the flight with stories. I managed to make my way through
Doctor Who – Let's Kill Hitler, Sherlock – The Hounds of Baskerville, The Lion King
(trust me to go for the kids channel!), and
The Artist
, which I'd been meaning to watch for a while, but this marathon included regular stops to stare out of the plane window some more. With this flight in daylight I could make sense of what I'd seen in the dark on the way over, and most of it was desert. The plane approximately follows the path of the Nile north, so we few over first the Libyan Desert, and then the mighty Sahara. Seeing the empty vastness and the shifting dunes below I felt like a character from a Tintin book. I've never seen anything like it.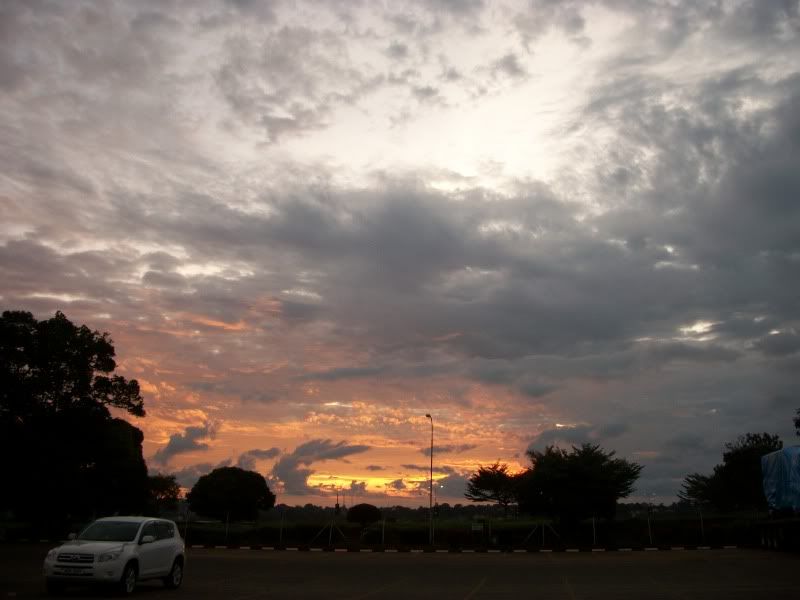 Sunrise at Entebbe airport, our last morning in Africa

The traffic out of London was merciful on us, despite it being Friday rush hour. I spent a lot of time staring out of the window, trying to quantify the different between the Ugandan and British countrysides. All I could come up with ultimately, other than the obvious change in plant species, is that they just feel different. We're thinner somehow, brisker, while they seemed lush and dense and extravagantly large.
With the parents going to bed early after driving us home I was left to take Galaxy the dog on his last brief walk of the day. We take him out around 11:00pm to do his business, and to be honest I wanted to go to bed. Gal and I wandered round to a long grassy strip where it's a bit quieter. The night was cool and crisp and clear, with an unusual number of stars out. I recognised the Plough again, Cassiopeia, Pleiades. As we passed the bushes near the wooded lane we met a prickly little gentleman making his way out for supper. A hotchi witchi in the hedgerow. I just stood there for a while in the silence, remembering where I come from. In Kabubbu one of the main questions the older kids ask you is which you prefer, Uganda or England. I answered them truthfully; Uganda is a beautiful and fascinating country and I would love to go back there again, but whoever you are and wherever you come from, your own home will always be the most special.
I put this together quickly to show a friend what I'd been up to. It's rough, no thought gone into the timings, but it's nice for a quick overview, and the song kind of says it all. It's Fernando Ortega's version of the hymn 'Great is They Faithfulness'.
Edit: My parents showed it to their church back in Norfolk and now it has a few dozen views on Youtube which is lovely, if slightly bizarre for me.